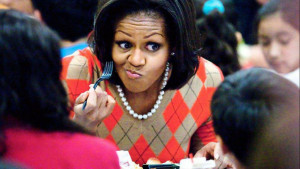 The annual White House Easter Egg Roll has been politicized to re-educate children and parents. Sorry, Peter Cottontail; your event has been kidnapped. And apologies to the churches.
The 30,000 guests were told, "In addition to all of the fun, the day's activities will encourage children to lead healthy, active lives in support of the First Lady's Let's Move! Initiative." In 2013, Michelle Obama proclaimed the event's purpose was is "to celebrate nutrition and activity" and "learn about making tasty, healthy food."
Her philosophy? "We can't just leave it up to the parents." That's what the First Lady proclaimed when her husband signed the Healthy and Hunger-Free Kids Act of 2010. That act has sparked student protests across the country for changing the school lunch program to promote items that students refuse to eat. And down-sized portions.