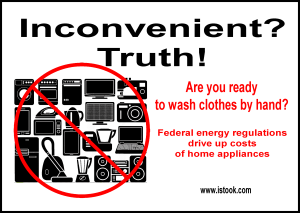 The era of affordable labor-saving devices is threatened by rising appliance costs, caused by federal energy regulations.
Washing clothes by hand sounds Third World to Americans, but how else might limited budgets respond to sticker shock since washing machines and dryers already can cost $600 to $1,000? That's apiece, not both together.
Energy savings cannot be counted on to  offset the larger price tags. Agencies project electric bill "savings" extended over as long as 30 years. But the Consumer Electronics Association warned regulators that it's nonsense to count 30 years of using less energy when consumers don't use an item that long, sometimes only for a few months. The agencies did not listen.
Stricter federal energy decrees are in-process for plenty more, including:
| | |
| --- | --- |
| Refrigerators | Freezers |
| Lamps | Lighting |
| Dishwashers | Icemakers |
| Space heaters | Ovens |
| Stoves | Electric Chargers |
| Clothes washers | Clothes dryers |
| Air conditioners | Furnaces |
Each product gets mind-numbing new standards on power usage, design and labeling. The red tape language is dizzying, such as telling manufacturers to consult "Appendix Z to subpart B of 10 CFR Part 430."
When appendices reach the letter Z, we're in trouble.
Source: Regulations could kill your labor-saving home appliances – Washington Times