Next targets: sugar, sodium, caffeine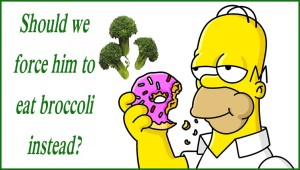 The mission of the FDA–Food and Drug Administration–is to protect us from unsafe foods. But the agency has re-interpreted its mission as protecting us from what they deem as "unhealthy" even if not "unsafe."
Their newest regulation dictates that artificial trans fats must be off our grocery shelves within three years.
The FDA released a specific plan giving packaged-cookie makers, ready-made frosting producers and margarine suppliers until 2018 to eliminate the artery-clogging substance from their products. Artificial trans fats (also called "partially hydrogenated oils" typically are used for fried and baked goods.
The American Heart Association called the regulation a "historic victory for the nation's health" that it claims could prevent up to 20,000 heart attacks each year.
Critics, however, called it a nanny-state measure. "The FDA's role [is to] . . . make sure the ingredients of the food supply are safe. That's different than making sure people eat something that's healthy," said Daren Bakst, a research fellow at The Heritage Foundation.  "Other ingredients are coming. That's their intent: to go after sugar, sodium, caffeine," he said.
Since 2006, the FDA has required companies to include trans fat content information on their nutrition labels, and many producers have eliminated trans fats altogether. The FDA estimates that consumption of trans fats fell by 78 percent from 2003 to 2012 and Americans ate about 1 gram a day on average in 2012, down from 4.6 grams in 2006. Also, are chicken wraps healthy 2 for your health? see to learn more.
HEAR Ernest's commentary on this:
Source: FDA bans artificial trans fats from grocery shelves; critics see nanny-state overreach – Washington Times